Classes
Monday 6:30pm
Dervish Holistic Centre
Gentle Vinyasa Flow
A gentle class suitable for people looking to establish a regular yoga practice. Booking required as space limited.
Tuesday 7:30am
The Yoga Loft
Earlybird Vinyasa.
Start your day with sun salutations and good vibrations with a fresh series of asana. Open to all abilities; work at your own level.
Tuesday 7:30pm
Tracton Arts community Centre
Yoga for wellbeing.
Gentle yoga stretches to restore health and vitality to your whole system followed by guided meditations to retrain your mind and body into the deep relaxation we all need.
Thursday 7:30am
Kinsale Yoga Centre
Early Ashtanga Vinyasa.
Open to all levels, this dynamic flow is based on the Primary Series of Patabi Jois.
Om Body in Mallorca
Mandala Workshop
Paint your own beautiful mandala to enliven your livingspace. Like the Facebook page for info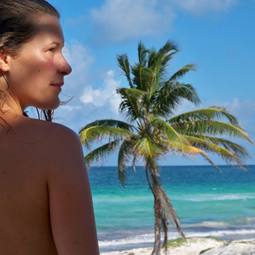 Mexico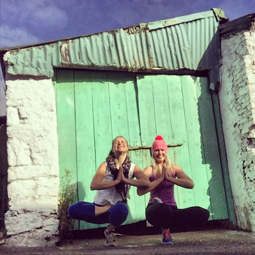 Ireland for Yogis
Join Gilly to practise yoga on the magical island of Ireland. Explore ancient sites and soak up the green. powered prana of this fertile land.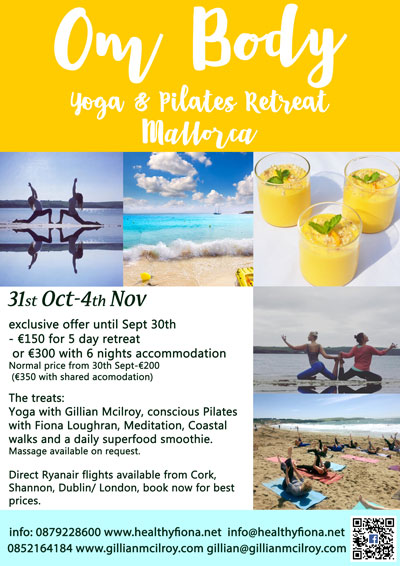 "I want to go...take me to the event page on facebook!" -
About Gilly
Gillian is a yoga teacher and artist from Ballymena, now teaching in Cork. Gillian has over 10 years' experience of yoga practice which she inherited from her mother and grandmother. Gillian began studying Ashtanga Vinyasa Yoga under Kushala Camarena at Purno Ham Yoga Center in Mexico City in 2006 and did her 200hr teacher training with him in 2012. She found the ashtanga practice and philosophy gave her a new freedom and vitality that is constantly evolving. Gillian teaches in Cork and Kinsale and lives near Oysterhaven where she paints mandalas and animals inspired in her yoga practice and the countryside around her. Gillian's intent with her classes is to convey that what happens in the body happens in the mind, that the body is a wonder, and that there is no need to force where there could be ease
One to one yoga tuition
If you are interested in spending time working on your yoga practice with Gillian, she can help you to develop your own personal practice. One to one sessions are devoted to paying attention to your unique anatomy to find the best way for you to practise your asanas and identify which asanas might be of particular use to you. Can take place in your home or at any of the studios Gillian works from.
Arrange a Group Class
Apart from the public classes above Gillian also teaches corporate and private groups. You can arrange a course of weekly classes as part of a well-being programme for your group or a yoga workshop for a special event.
Gillyrabbit Illustration
Yoga inspired paintings and design